Ora
with
Beenleigh International Cooking Group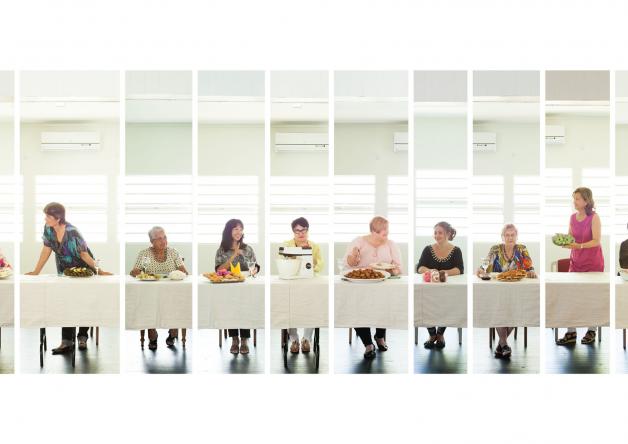 ΩΡΑ (ORA) refers to time, not as a mechanistic continuum, but as a superposition of dormancy, pregnancy, bloom and decay; in its inception is a sense of natural order and of participation in the grand spectacle.
In May 2014, Chrys Zantis devised an event with the Beenleigh International Cooking Group that was designed to achieve two ends: to generate a conversation about the role of food in social and familial relationships, but also, to generate a portrait of the group that would derive from and elaborate on this conversation.
She initiated this conversation through a series of home visits where over a shared meal, several group members would relate accounts of memorable meals, often alternating between the remarkable and the everyday, and often introducing memories of great joy or sorrow. These visits brought about a recognition that there were modes of social interaction the members longed for that could be incorporated into the group's activities outside the their regular meetings: in addition to the exchange of cross-cultural culinary interests and techniques, the group could also play a more comprehensive social role in the lives of its members, whether it be as an usher for the intimate sharing of confidences that the home visits provided, with the ensuing formation of closer personal relationships, or as an umbrella for spirited, high-energy group events. On this recognition, new social relationships and events began to develop within the group and were thriving when the final event was realised in October.
The elaboration on the group conversation present in the final large-scale, twenty-two piece photographic tableau is not only visual; it does not lie only in the compare-and-contrast exercise provoked by the recorded details of each member, nor only in manner in which the individual portraits coalesce to produce a harmonious classical form, but also in the continued health, relevance and vibrancy of the community group. In an environment of mounting pressure for art works made in communities to present an a priori awareness of pressing social needs, ORA argues for a holistic approach that encompasses the cognitive, facilitative and reflective in one self-contained and seamless project: ORA uncovers the desire for change, establishes its means and as a final flourish, documents and ponders upon its moment.